Premier IT Services for Nonprofits in Los Angeles, CA
Flexible & Affordable Non-Profit IT Support LA
24/7 Support & Fast Response // Flat Monthly Fee for IT // Cloud Computing & Cybersecurity
Secure Networks ITC assists nonprofits in Los Angeles in utilizing technology to proceed with their goals while keeping costs down. Our clients benefit from a much improved technological experience since we establish a robust IT infrastructure and provide ongoing assistance to your team. Nonprofits may adopt technology that improves operations and provides the types of interactions that build relationships with members, donors, volunteers, and staff when we work together to develop an IT strategy.
As a Microsoft certified company, Secure Networks ITC is a prominent provider of comprehensive IT services and non-profit technology solutions, including IT consulting, remote and on-site computer/server support, cybersecurity, data protection, managed IT services, Office 365, office networking, migration to cloud platforms, and many more. ..


IT services for nonprofits in LA are a driving force in many areas, including communication and awareness, improving internal operations, performance growth, and sustainability planning. Whatever your mission is, IT infrastructure and technology services will give you the incredible capabilities you need to reach and exceed your objectives.
Complete IT Services for Non-Profits in Los Angeles
Let us do all the work about managing your technology, so you can focus on helping others.
Managed Services
Enjoy unlimited IT services - Secure Networks ITC, as a managed service provider (MSP) in Los Angeles, has a full IT department at your disposal. We provide services necessary for your company's prosperity and progress; our experience and industry understanding will benefit your firm. We will assist you in optimizing the performance of your IT infrastructure with the right server, desktop, and network support – at a flat monthly fee. Be sure that we offer advice and solutions that lead to higher productivity.
Remote & On-Site Support
Many nonprofit organizations may benefit from our remote support, as it is usually less expensive and more practical. It provides instant and timely support, as well as privacy and convenience. On the other hand, there is on-site support. It is usually needed when remote support cannot be given and is offered at your organization's premises. Our remote support is are available 24/7, 7 ways a week.
IT Consulting
We begin by thoroughly examining your IT system. Following that, we will be able to decide which techniques to employ in order to address any potential concerns and strengthen your IT infrastructure. All of this contributes to the required improvements in the performance of your nonprofit organization. Cloud, network, security, and technology consulting are all common types of IT consulting, so Secure Networks ITC can help you develop a strategy for making your IT less vulnerable to security threats and determining the best way to avoid them.
---
Cybersecurity
You can successfully avoid cyber threats if your organization has adequate protection against harmful attacks. With a solid cybersecurity policy designed to detect and respond quickly to cyber incidents, we can help you prevent unwanted access. We will also respond quickly to incidents when they occur. When you are unsure which antivirus product is ideal for you, our professionals will examine your business needs and install the appropriate software.
Office Networking
Office networks link computers and their users, allowing for communication throughout your NPO. We can provide seamless internet connections as well as a stable connection between connected computers. Without up-to-date network infrastructure, your NPO may experience limited bandwidth, slower PCs, bad connectivity, and the most dangerous security breaches. Before you make a decision that may cost you time and money, call us to find out what you need for your office.
Office 365 Support
Nonprofit institutions are eligible to use Office 365 for free. We can assist you in selecting the appropriate Microsoft plan as we are an official Microsoft partner. We are responsible for administration, user support, and customer care, while Microsoft, as our partner, is responsible for cloud server maintenance. Working without a Microsoft suit is probably impossible for you, so we will help you implement this cloud platform for free. Our Microsoft-certified team can assist you with initial setup, linking your domain to your Office 365 subscription, and managing the necessary public DNS configuration.
IT Support for Nonprofits in Los Angeles
Nonprofits can spend less time on operational concerns and more time on achieving their overall missions and goals with the right IT resources. Our IT consultants have years of experience working directly with nonprofits, bringing a plethora of IT knowledge and technology that help them succeed. Non-profit institutions are critical in today's society. They face great problems due to economic pressure and continuous demand for services, whether they are tiny nonprofits with a deficient workforce or a much larger organizations operating nationally. Secure Networks ITC recognizes that nonprofits must find a balance between efficiently raising funds, reaching new donors, serving and interacting with the public, reducing expenses, greater transparency, and interacting with the community.
We provide comprehensive IT services for nonprofits in Los Angeles, CA, focusing on proactive technology solutions to guarantee that IT systems are optimized, streamlined, and, most importantly, secure to maintain a reliable workflow.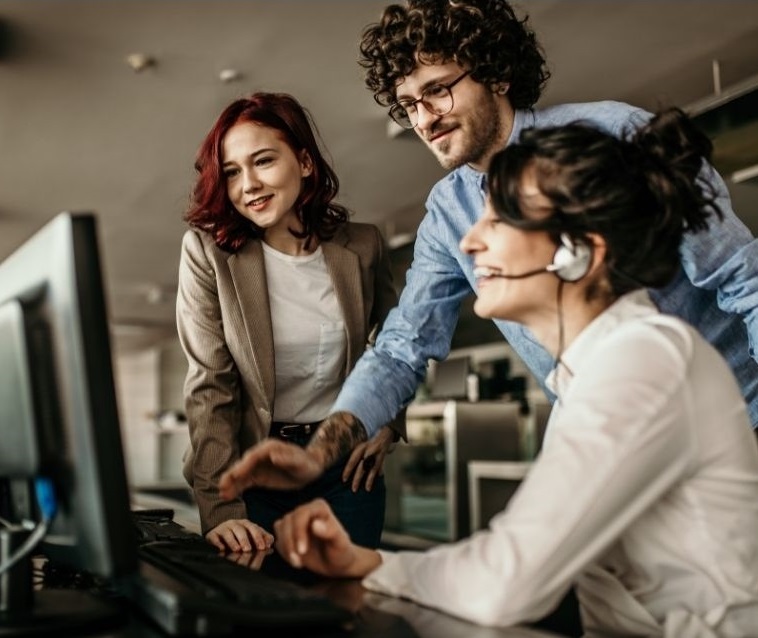 Managed IT Services for Nonprofits – Unlimited IT at Flat Cost
By shifting general administration and monitoring chores from an in-house team to a better prepared external team, managed services help to improve operations and decrease costs. It also increases security by putting the overall safety of your network and data in the hands of a full team with strict systems and protocols. While it is easy for a single person to overlook certain IT security and monitoring areas, an MSP is specifically designed to handle all aspects of your IT system. We offer the following services:
Desktop support - we provide on-site or remote technical assistance, including setting up OS and other hardware systems, troubleshooting all IT issues, and setting up and upgrading software.
Server support – Those services are designed to ensure your computer network systems are running smoothly. Your entire network is impacted if your server goes down, so good server support is extremely important.
Network support - Everything that keeps your computer network working, productive, and up to date is considered network support. It ensures that your gadgets are in good working order and that your hardware, software, and personal devices are compatible.
Backup & Data Recovery
Making and storing copies of the data is an effective approach to making computer data available in case of data deletion or corruption. In the event of a cyber-attack, having a well-established
backup solution
can help you protect confidential data. As one of the leading non-profit IT services providers, Secure Networks ITC will assist you in implementing some of the best data backup and recovery options:
On-site backup: Data is downloaded from your server and stored on an external hard drive. You can easily retrieve your data instantly following a server crash or any other incident that results in data loss.
Off-site backup: Depending on your business needs, complete server backups are normally done once a week or once a month. The data is retained on an external hard drive that is regularly kept off-site and brought in for backup purposes.
Cloud backup: Raw data (folders and files) is stored in the cloud, and the cloud backup can be done once, twice, or even ten times a day. >
Non-profit IT: Consulting
If you want to modernize your IT strategy and follow the latest IT trends, IT consulting at Secure Networks ITC will craft customized IT solutions that will enable you to reach your business goals. We provide
IT consulting services
to assist you in improving your software architecture, developing a tech-driven digital strategy, and optimizing your software portfolio to improve operations. These services include:
Security consulting
Cloud consulting
Network consulting
Technology consulting
Cybersecurity for Nonprofitst
Applying technologies developed to protect systems, programs, data, networks, servers, and devices from unauthorized access and exploitation is our job. To offer a
proactive cybersecurity plan
and protect your digital assets against cyberattacks, we develop 3-step process:
Defining: we customize a security plan for your IT infrastructure that is industry-relevant and focused.
Protecting: we identify and eliminate any server, computer, or network vulnerabilities right away.
Defending: we prevent cyber-attacks and provide proactive cyber threats detection and quick response.
There are numerous cyber threats, some of which are more dangerous than others. Malware that wipes your entire system, an attacker entering into your system and modifying files, an attacker using your computer to target others, or a hacker taking your credit card information and making unwanted transactions are just a few hazards. Even with the best protection, there is no guarantee that any of these things will not happen to you, but you can take steps to reduce your risk. We offer some of them:
Antivirus software: It will protect you from the most common types of malicious software, such as spyware, wipers, adware, worms, ransomware, Trojans, viruses, and other cyber threats.
Server antivirus: This antivirus program defends your server from dangerous threats and safeguards its resources. Regardless of which server you pick, we will assist you in protecting your NPO.
Nonprofit IT Cloud Solutions
Storing and accessing data and programs over the Internet instead of on your computer's hard drive is considered the safest and the most accessible solution. Selecting a cloud type or service is a one-of-a-kind decision. No two clouds (even of the same sort) are the same, and no two cloud services are utilized to solve the same problem. However, understanding the similarities and differences can help you better realize how the limitations of each cloud computing model and cloud service may affect your organization. The differences between public, private, hybrid clouds, and multiclouds are once defined by ownership and location, but things are not so simple anymore. We are here to explain everything you need to know and help you choose the best solution for you, so we offer:
Microsoft Office 365 is a productivity cloud that allows you to pursue your passion while running your NPO. Microsoft Office 365 is more than just Word, Excel, and PowerPoint; it combines best-in-class productivity programs with powerful cloud services, device management, and sophisticated security in a single, connected experience. The main benefits include accessibility, reliability, affordable prices, enhanced security, and up-to-date versions.
Microsoft Azure is a hybrid cloud platform that allows you to store data on-premises and in the cloud. Cloud storage that is scalable and durable, reliable backup and recovery solutions, and the ability to spin up virtual machines in minutes are just a few of the highly desirable features for any nonprofit organization. Our experts will set up your first Azure server, cloud backup, cloud-based active directory, and multi-factor authentication to ensure that everything runs optimally and efficiently.
Cloud migration, as one of the most important high-level plans for moving data, applications, and other business elements to a cloud computing environment, will allow your non profit organization to get closer to your donors and clients than ever before. Finding the best strategy to migrate programs to the cloud requires a lot of effort, but it pays off. The most crucial aspect of any cloud migration is ensuring that your company gets to where it needs to be. Based on how different organizations seek to use the cloud to achieve their goals, there are four basic types of cloud migration:
Lift and shift
Shift to Software-as-a-Service (SaaS)
Application restructuring
Replatforming
Still, setting up a cloud or a cloud migration is not easy, so having a trusted IT expert team by your side to do the entire job for you is crucial.
IT Services Non Profits in Los Angeles: Rely on Secure Network ITC to Safeguard Your Greatest Assets
With over 15 years of experience working with non-profits, we understand that each organization is unique and has its own set of technical requirements. We deliver industry-leading non-profit IT consulting, IT support, and IT management services. Secure Networks ITC will collaborate with you and your institution to fully comprehend your objectives and address your IT problem points. Find out how our IT services for nonprofits may help your organization achieve its goals, contact us at
(213) 861-2255
.