Orange County Office 365 Services
It seems like Microsoft created the Office 365 particularly with small to medium-sized businesses in mind. The software offers a wide range of apps intended to provide advantage, increase productivity and profitability.
As a Microsoft Cloud Solutions Partner and Official Microsoft Partner, Secure Networks ITC can fully manage Office 365 on your behalf. While our partner Microsoft handles your server maintenance, we handle the administration (billing), customer service and user support. We also offer support for the initial setup, connecting your domain to the Office 365 subscription and managing required public DNS configuration.


The main benefit of Office 365 Support in Orange County is that it eliminates the need for an in-house Email server, but, of course, that's not all. With many plans with varying prices, an Email server won't be the only thing that you'll be getting. OneDrive, Office Suite and Skype for Business are also part of the offer, so you'll get everything that you know and love in one package. What a deal you've got yourself there – an IT Dream Team that constantly has your back!
10% OFF on Office 365 Subscription & Free Migration
As an official Microsoft Partner, we can offer great deals on all Microsoft Products.
We give 10% discount
on your existing or initial Office 365 subscription. If you are already using Office 365, make sure to contact us and find out how much you would save on your current subscription. In case you are still not using Office 365, we'll offer the 10% discount on subscription
plus FREE migration
.
What we'll do:
Consult and determine if Office 365 is the right platform for your organization
Help you select the best Microsoft plan for your business
Introduce and implement Cloud surrounding
Eliminate downtime & ensure a smooth IT infrastructure change
Migrate all mailboxes from your old email server to Office 365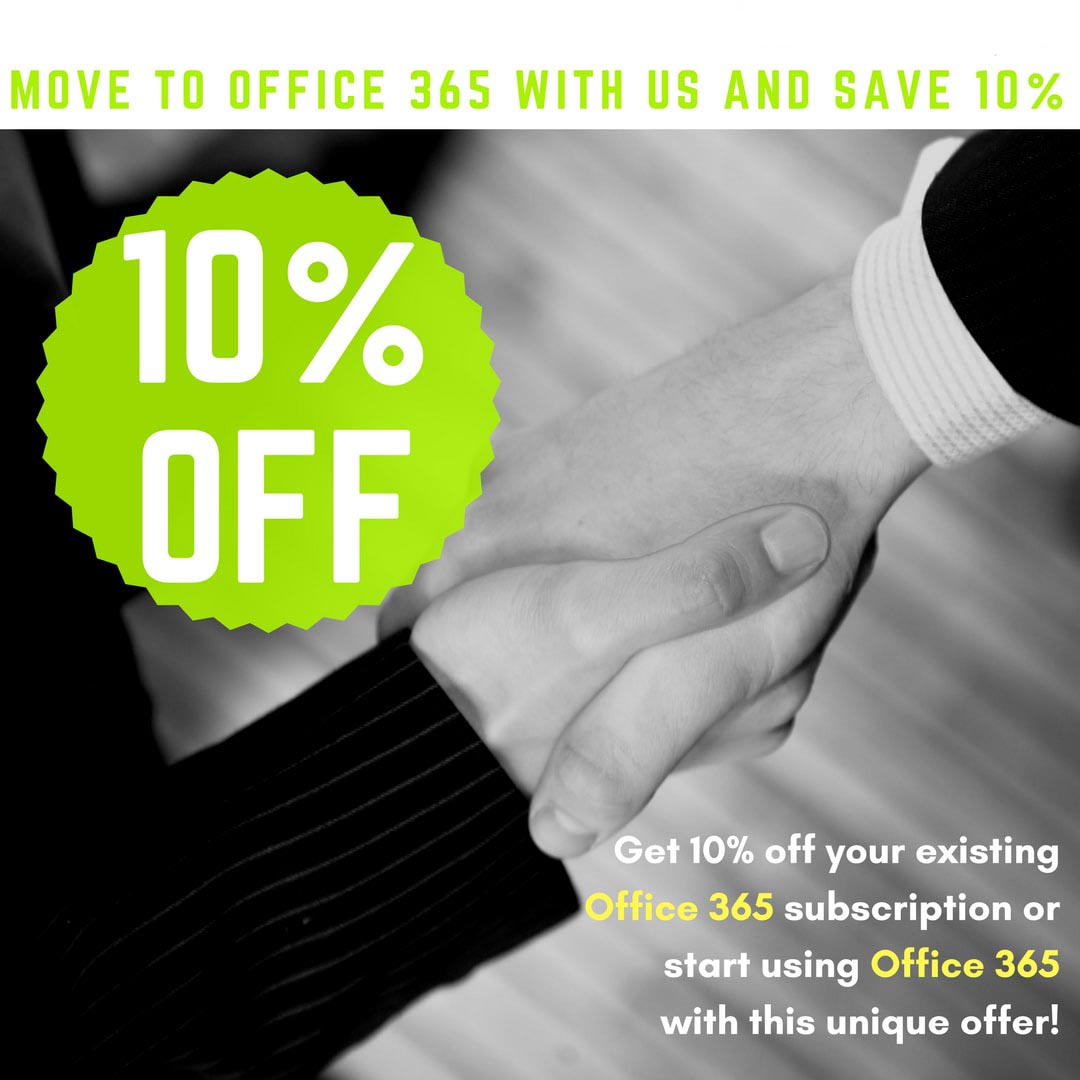 What Orange County Office 365 Services Include?
We won't bother you with absolutely every detail about the platform, because there is no need. In general, we would like you to think of us as a handy tech-filter. Our purpose is to filter out millions of tech-information and to deliver only the ones that are beneficial for you and your business.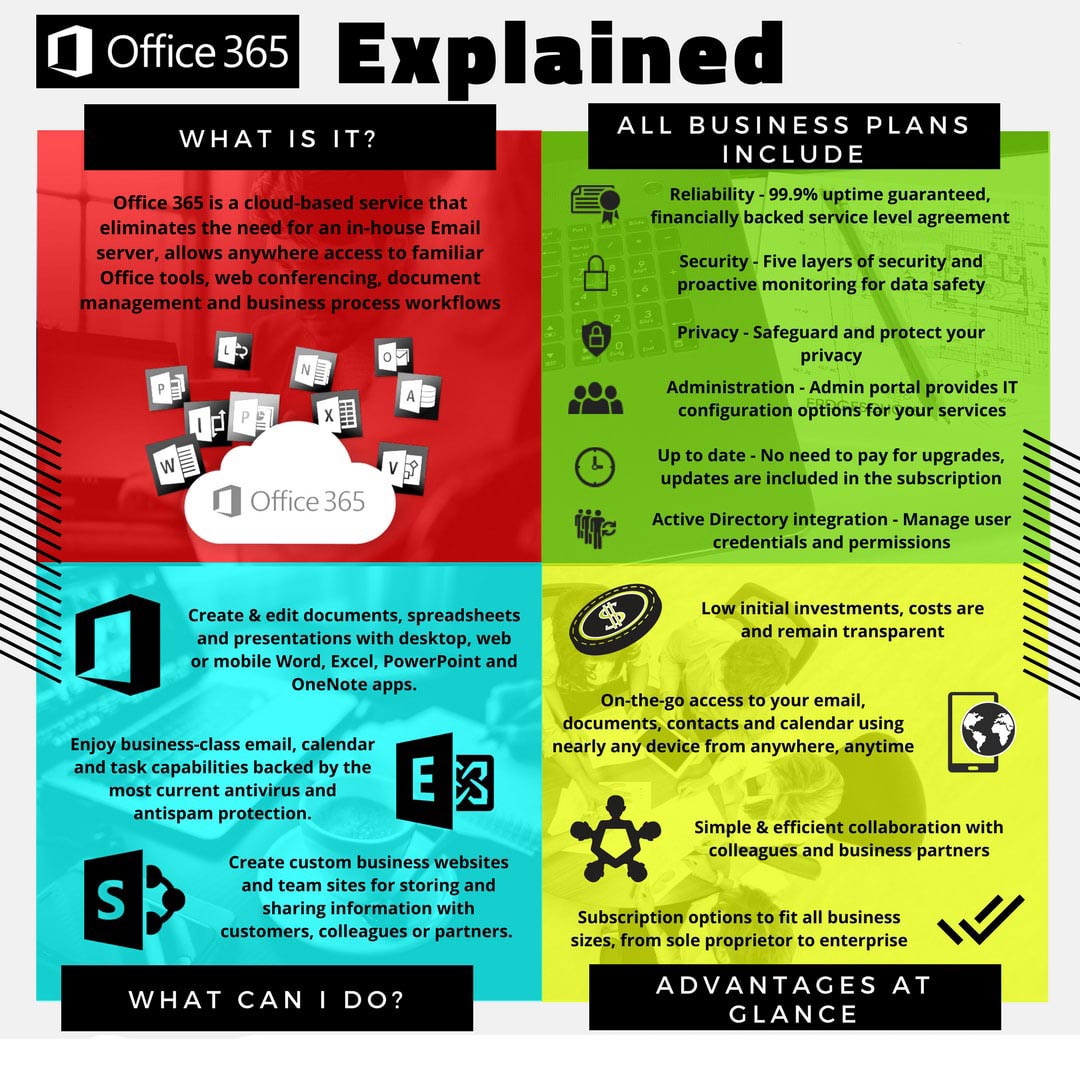 We're dedicated to technology and acquiring technological knowledge, drawing conclusions and delivering concise and spot-on conclusions and advices. Why? Because there is no need for you to do it – you have your own business to take care of and excel at, so why would you waste time and money wandering about. So here are the main things you need to know about Orange County Office 365 Support .
Remember when there was just Office?
When you say "Office" we all know what comes to mind: Word, Excel, Power Point and Outlook – programs that every business or academic person cannot imagine their professional existence without. The programs were once purchased and delivered in a nice Microsoft box and were installed on your computer. And that's where they lived. In case you needed to update them to a newer version, you needed to buy it. Remember that?
So, what IS Office 365?
Pretty soon someone asked a question (and in IT world, that's usually what it takes): Wouldn't be great if I could access the up-to-date version of my Office just like that? No boxes, no new purchases. And then, imagine that the latest version would be always available across multiple devises. And then someone else said: Well, duh. And that's how Office 365 came into existence: a Microsoft's cloud-based platform that offers mobile solutions and 24/7 access to your documents. It basically means that it takes all the services that are traditionally stored in a physical server located in your office and places them into the Cloud. Placing the services into the mighty realm named Cloud means that you will be able to access them anytime, all the time (thus the name), from any device (Mac, iOS, Android, Windows). In other words, all your favorite apps are now box-free and you're able to access them in a more dynamic way.
5 Important Advantages of Office 365 for Small Business
Accessible - Get the Job Done from Anywhere
Microsoft understands that you handle a great proportion of your business while on the go, so Office 365 enables you that. Where ever you go, you could bring your apps and data with you and you could access them virtually anytime, anywhere. When you don't have a computer with a desktop version of Office 365 installed, you can access all your documents stored in all Office libraries online in your browser or mobile device, make quick changes in the online versions and they'll get automatically synced across devices. This enables you to do your job faster, better and more efficiently. You can easily communicate with your colleagues using Skype for Business, while your data is on OneDrive. After you create or save documents or notes, you could simply save them to OneDrive or share it via Skype for Business and make it easily available to all your colleagues.
Manageable – Always Have the Latest and Greatest
Microsoft strives towards enhancing user productivity, so you'll get the latest tools for productivity and collaboration delivered to your devices. With automated updates, you won't need to worry about upgrades and new versions of your apps, as you'll always have current, up-to-date versions.
Reliable – Never Worry About the Downtime
The dynamic access is important to everyone living in the second decade of the 21st century, but there are a couple of more things that all-level employees and employers will find exceptionally important. One of these things is the Office 365 guarantee of 99.9% uptime. Here's how they do it: Office 365 is running on Microsoft own servers located in server farms all around the world. If you decide to go for Office 365, you wouldn't need to worry if your server is running at an optimal level or if you need a backup solution for your email server in place. Microsoft would provide computer power storage and would handle the server maintenance, so that you and your organization wouldn't have to worry about managing it.
Secure - Never Worry About Safety
Another point that is as equally important for business world of today, is for your business data to be safe. Microsoft understands that perfectly and offers world-class enterprise data security. All communications are encrypted by Microsoft's own certificates with advanced encryption. That includes email, OneDrive and Skype for Business communications. Microsoft offers a password protected environment, spam and malware protection and optional automatic data backup. For an additional layer of security, you could use the Multi-Factor Authentication option from Microsoft either by using your phone (phone text) or by using Microsoft Authenticator app.
Affordable – Organize Your Business at Fair Prices
To understand the affordable aspect of Office 365, you would have to understand how in-house email servers work and what are the downsides. Major downside would be the Anti-Spam, or lack of it. Sooner or later, your mailboxes will get swamped with bogus emails or/and emails carrying many different types of malware. To counteract that, you will need to get an Anti-Spam solution. It could be a standalone software, cloud-based service or even a module that you could install on your firewall. Speaking of a firewall, you would really need to get one. As soon as your email traffic increases, you can expect hackers to try to gain access to your network. A good Firewall will take care of that. It seems that this type of setup could cost quite a bit, and you would be right, but depending on the size of your business it could be something worth pursuing. Otherwise, Office 365 really is a cost and headache saving service, because everything we just mentioned is included! Anti-spam and Anti-Virus along with advanced firewall for your email server. It is in the cloud and on Microsoft's servers, so it has to be secure! You would keep avoiding serious errors that would normally cause long downtime periods. Not only would downtime inflict serious damage to your business or organization, but it would otherwise be very expensive to fix. So, bottom line is: Low initial investments, costs are and remain transparent.
Orange County Office 365 Support: Plans Available
Office Suite Documents
Besides all the well-known and useful apps such as Word, Excel, Outlook and PowerPoint, Office Suite offers other apps that will make your life easier and more productive. One of these apps worth mentioning is OneNote. It is an extremely handy app designed for taking notes, and we're not talking about old-school notebooks such as the Notepad. It's a digital notebook that you can sync to OneDrive and share with your co-workers. You can take notes anywhere on the page, you can create sections for activities or subjects, add pages inside sections, paste images, links, write notes on slides, allow co-workers to collaborate and contribute on a joint project easily and transparently.
Instant Messaging & Video Chat
In today's business world, you'll often need to get the work done by bringing certain people together. And in most cases, securing physical presence of these people on a particular date at a particular time is difficult, if not impossible. This is where Skype for Business comes in, as it enables different people to meet and connect online easily from anywhere in the world. Skype for Business can increase your employee productivity with features like instant messaging, voice or HD video calling and screen sharing, where you can even whiteboard and draw with people who are on your Skype bridge. With different statuses it can indicate your availability or presence, for example, whether you're at or away from your desk, if you are in a meeting or in a call. You can upload and share a PowerPoint presentation which enables many useful features that screen sharing doesn't, including the possibility for all attendees to download your presentation afterwards. You can also record everything that occurred in your virtual meetings: audio, video, instant messaging, application sharing, PowerPoint and white board activities.
Personal & Team File Sharing & Storage
SharePoint allows you to access your documents offline and enables you to manage and share them. OneDrive that falls under it and it replaces your File server with a cloud-based one. It is where you store your business documents, all available for you to view, edit, share, co-create or co-author. OneDrive for Business enables your team to collaborate on Office documents simultaneously, to keep track of everyone's changes in real-time, to share reports with your partners, and connect with customers, colleagues and partners quickly and easily. No need to sit together at the same desk anymore or to print and hand over the data, everything is done online, and everything is available to anyone.
Office 365 Mail Flow
Microsoft Exchange is a hosted messaging solution that provides email functionality, calendar scheduling and management, provides users access to their contacts and tasks from PCs, mobile devices or the web. It is very similar to the in-house version and is based on the same tech, the only difference is that it is hosted in the cloud. You'll have access to your email and calendar where ever you are. To check your emails or calendar on a computer, you'll use your Outlook desktop or Outlook web app, and to do this on a mobile device, you'll either use a web app or a more suitable compatible app that you'll download in a few seconds. Outlook is a hosted enterprise-class email for business that enables you to work smarter. It offers three business-like themes and more than dozen backgrounds for personalization. It is one destination for email, calendars, files, contacts and tasks. You can schedule your meetings and appointments, share your calendars and mailboxes with others, easily assign and track tasks for you and others and everything will stay synchronized and up-to-date across devices.
Enterprise Social
Yammer is the social app designed for the enterprise that helps your organization work like a network. Its purpose is to connect your team in a way that will allow a faster and smarter collaboration. You'll stay up-to-day on everything that's work related, which can be especially beneficial when working on a specific project. You would be able to keep track on people's progress, activities and documents. Moreover, you can create communities around a specific project of a topic, communicate information, drive discussion, follow groups or teams, comment, share ideas and updates, provide feedback or even store content. This would enable you to spot opportunities, to make changes or adaptations quickly and in a manner that you see fit, and your employees can get answers to questions faster and in a more open community, feed-style.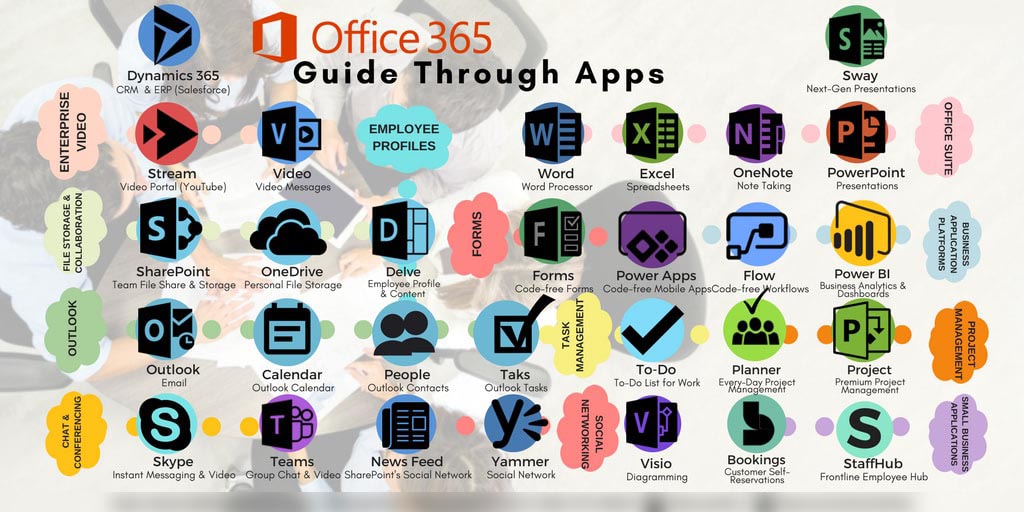 Quick Guide Through Office 365 Plans
Office 365 office offers many different packages to choose from, so it should be very easy to pick the right one for your organization. It should, but that doesn't mean that it actually is. A lot of options can sometimes be too much options, especially if time is of the essence. We understand that you don't have time scrolling through different options, so we're happy and ready to assist you in finding the right option for your business.
Small Business Options
In case you are an owner of a small to medium-sized organization, the first thing you should consider are the Small Business packages: Office 365 Business Essentials, Office 365 Business and Office 365 Business Premium. Office 365 Essentials is the most affordable package that doesn't include any of the Office Suite apps, but it does include web versions of Word, Excel, PowerPoint and Outlook. As for services, it includes Exchange, OneDrive, SharePoint, Skype for Business (online meetings and video conferencing for up to 250 people) Microsoft Teams and Yammer. Email hosting with 50GB mailbox with custom email domain address, file storage and sharing 1 TB of OneDrive storage, company-wide internet and team sites with SharePoint, and the maximum of 300 users are some of the most important features. Office 365 Business includes all desktop versions of Office apps (Outlook, Word, Excel, PowerPoint, OneNote) and Word, Excel and PowerPoint web versions, including Access and Publisher apps for PC or Mac. As for services, it includes OneDrive with 1 TB of storage. One license covers 5 phones, 5 tablets and 5 PCs or Macs per user, with the maximum of 300 users. Office 365 Business Premium includes all Office apps (web and desktop versions) and Access and Publisher for PC. As for services, same as the Essentials option, it includes Exchange, OneDrive, SharePoint, Skype for Business (online meetings and video conferencing for up to 250 people), Microsoft Teams and Yammer. As for other features, it includes everything the previous two plans are missing, including StaffHub, Microsoft Planner and 24/7 phone and web support.
Enterprise Option
In case Small Business Options are not quite what your organization needs, Office 365 created four different Enterprise Options. Some of the most distinguished features are listed below.
Office 365 Enterprise E1
doesn't include desktop versions of Office apps, only web versions of Outlook, Word, Excel and Power Point, and following services: Exchange, OneDrive, SharePoint, Skype for Business, Microsoft Teams and Yammer. Email hosting with 50 GB mailbox and custom email domain address is included, as well as file storage and sharing with 1 TB OneDrive storage. You can host unlimited HD video conferencing meetings with up to 250 people, meetings for up to 10,000 people with Skype Meeting Broadcast, you get apps such as Delve, Microsoft Planner, StaffHub, 24/7 phone and web support and unlimited number of users.
Office 365 ProPlus
includes desktop versions of Outlook, Word, Excel, PowerPoint and One Note, plus Access and Publisher for PC only, and web versions of Word, Ecel and PowerPoint. The business email hosting is not included in this package. One license covers 5 phones, 5 tablets and 5 PC or Macs per user, 1TB OneDrive storage, unlimited number of users and 24/7 phone and web support. Skype client for PC and Mac included.
Office 365 Enterprise E3
includes all features of 365 ProPlus and Enterprise E1 in addition to security and compliance tools, such as data loss prevention, legal hold, etc. It also includes email hosting with 100 GB mailbox and custom email domain address, unlimited OneDrive storage and an unlimited number of users. Office 365 Enterprise E5 includes all Enterprise 3 features in addition to advanced security, analytics (MyAnalytics and Power BI Pro) and voice capabilities. You can control how support accesses your mailbox with Customer Lockbox, guard your mailbox against malicious links and attachments with Exchange Online Advanced Threat Protection, assess risks and gain insight into potential threats with Office 365 Cloud App Security. You can make, receive and transfer calls across various devices via Phone System, and use Audio Conferencing in order to create meetings with a dial-in number that people could join by telephone.
Government Plans
Microsoft also created three different options for government agencies, department offices, units, divisions and other local or state government, or entities authorized by the law to make purchases under state contracts. Microsoft requests a signed contract as a proof that you are an eligible customer. The detailed eligibility requirements for each country can be found on
Office 365 website
. The three different Government Options are: Office 365 Enterprise E1 (Government Pricing), Office 365 Enterprise E3 (Government Pricing) and Office 365 Enterprise E5 (Government Pricing). Financially backed service level agreement, IT-level web support and 24/7 phone support for critical issues, active directory integration to easily manage user credentials and permissions is guaranteed for all Government Plans.
Nonprofit Options
Office 365 for non-profit organizations can range from free to $15.00 per user per month, again depending on the services users would like to use. To qualify for a Nonprofit plan, your organization must hold a recognized charitable status in your country and Microsoft's non-discrimination policy needs to be signed. Two plans are created for
Small and mid-sized nonprofits: Office 365 Nonprofit Business Essentials
(which is a donation and free of charge) and
Office 365 Nonprofit Business Premium
. The first option includes business class email, calendar and contacts with 50 GB inbox, 1 TB of OneDrive, SharePoint, Skype for Business and Microsoft Teams, and it doesn't include Office apps (only web versions of Word and Excel). There are also a couple of interesting tools, such as digital storytelling tools, Office Graph and work management tools. Maximum number of users is 300. The second option includes everything that the free plan does, plus Office apps and it includes 5 tablets and 5 phones. There are also three plans for large nonprofits:
Office 365 Nonprofit E1 (donation), Office 365 Nonprofit E3 and Office 365 Nonprofit E5
. The donation plan for larger nonprofits includes same as the plan for smaller organizations, but with additional features such as corporate video portal for uploading and sharing corporate videos, meeting broadcasts to up to 10,000 people, compliance solutions to support Archiving, Auditing, eDiscovery, mailbox, internal site search and legal hold capabilities. The E3 and E5 plans include everything the Premium plan does, plus a lot more features, such as compliance solutions, data protection with DLP, advanced eDiscovery tools, analytics, advanced security, phone system for cloud-based call management, Audio Conferencing for allowing people to join Skype for Business meetings by dialing in from a landline or mobile phone, and so on.
Office 365 F1
The purpose of the F1 package is to maximize the performance of your Firstline Workforce. Firstline workers are the face of your company: they are the people who engage with your customers, who represent your company's brand, who run day-to-day operations and who see your products in action. Microsoft understands that these workers are not only the face, but also the backbone of today's business, so that's why the
Office 365 F1
package includes useful and easy-to-use tools that will improve these workers' performance. F1 plan includes following online services: Microsoft StaffHub for workday management, teamwork hub Microsoft Teams, Skype for Business, social network Yammer; professional digital storytelling with Sway, Microsoft Stream for video collaboration, Microsoft Flow for building automated workflows between apps; PowerApps for quick building and publishing of custom business apps for web and mobile; business-class email through Outlook browser experience with 2 GB per user mailbox and attachments up to 150 MB; OneDrive for Business with 2 GB of personal cloud storage for each user, intranet access via SharePoint, Office Suite browser versions.
How to Decide Between Office 365 Plans: 6 Questions to Ask Yourself
Now that you've scrolled through our short version of all options, you probably a bit irritated. You are not sure which plan is right for you! And it's understandable. Some plans include some things, but exclude other things, while other plans include all these things, but exclude this thing over here. But this thing over here is what you actually need. It is not exactly rocket science, but it is tiresome and time consuming. For you. For us it's just a part of our job description. We studied more than 15 Office 365 plans and their pricings so that you don't have to. In case you have difficulties with deciding between multiple plans, we can provide consulting. In case you have no idea with which plan to go, or you don't have time to even think about it, just give us a call or send us an email with basic information about the company type, number of employees, and an idea about what would you like to accomplish. We'll do our best to find the best possible solution for you and your organization. Plus, we'll throw in the 10% discount for the subscription (you've seen that, right?). But in case you want help narrowing down your options, here are 6 questions that you would need to ask yourself to help you come to a conclusion:

1) Do you require Office Suite?
2) Would you like to keep your own server, but take advantage of OneDrive and 5 Office licenses per mailbox?
3) Do you need a complete package, email server, office licenses, additional services and 99.9% uptime?
4) How many mailboxes would you like to get?
5) Are the services like Skype and Teams really something that you need?
IT SUPPORT FOR SMALL BUSINESSES IN ORANGE COUNTY
You Can Find Us Here
---
---